Indigowoad root extract, also known as Radix Isatidis extract, is a versatile and valuable ingredient used in various products for its numerous health benefits. This natural extract is derived from the roots of the Isatis tinctoria plant, a traditional medicinal herb native to East Asia. It has been used for centuries in traditional Chinese medicine for its antibiotic, antiviral, and anti-inflammatory properties.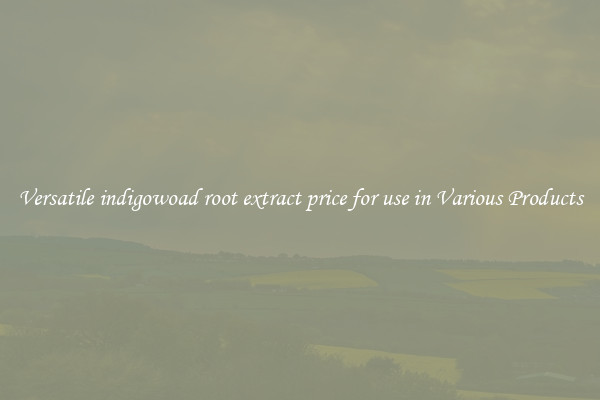 One of the key factors that determine the price of indigowoad root extract is the extraction process. The traditional method involves boiling the root in water to release its active compounds, which is time-consuming and labor-intensive. However, modern extraction techniques such as solvent extraction and supercritical CO2 extraction are more efficient and yield higher concentrations of active ingredients. The use of these advanced extraction methods may impact the price of the extract.
Another factor that affects the price is the quality of the indigowoad root from which the extract is derived. High-quality roots that are grown in optimal conditions and harvested at the right time tend to yield a more potent and effective extract. This, in turn, can drive up the price of the extract.
Indigowoad root extract is used in various industries, including pharmaceuticals, dietary supplements, cosmetics, and food products. Its antimicrobial properties make it a popular ingredient in natural remedies for infections, colds, and flu. The extract has shown promise in combating respiratory viruses such as influenza and has been used in the production of antiviral drugs.
Furthermore, indigowoad root extract has anti-inflammatory properties that make it useful in skincare products. It can help soothe and calm irritated skin, reduce redness, and promote healing. This has led to its inclusion in creams, lotions, and serums designed to treat acne, eczema, and other inflammatory skin conditions.
The extract is also utilized in the food industry, particularly in the production of natural food colorings. The Isatis tinctoria plant has been traditionally used to produce a blue dye known as indigo. The active compounds in the indigowoad root extract can be used as a natural alternative to synthetic food colorings, which are often associated with health concerns.
In conclusion, the price of indigowoad root extract varies depending on factors such as the extraction process, the quality of the roots, and the intended use of the extract. Its versatility and numerous health benefits have made it a sought-after ingredient in various industries. As demand for natural and plant-based products continues to rise, indigowoad root extract is expected to remain a valuable and versatile ingredient in the market.