Insulating wall sandwich panels are becoming increasingly popular in the construction industry due to their excellent energy efficiency properties. These panels consist of two outer layers, typically made of metal or other rigid materials, with a core layer of insulation material in between. This design ensures effective insulation, making them an ideal option for energy-efficient buildings.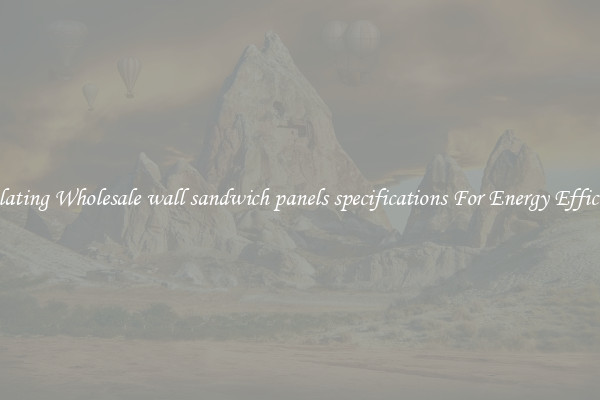 When it comes to insulating wholesale wall sandwich panels, there are specific specifications that ensure optimum energy efficiency. Firstly, the thickness of the insulation core is crucial. It determines the panel's ability to resist heat flow, known as its R-value. Panels with higher R-values provide better insulation and reduce the transfer of heat between the interior and exterior of a building. Manufacturers offer a range of insulation thickness options, with commonly used thicknesses ranging from 50mm to 150mm.
The type of insulation material used in the core layer is another important factor affecting energy efficiency. The most commonly used insulation materials are expanded polystyrene (EPS), polyurethane (PU), and polyisocyanurate (PIR). Each material has its advantages, such as high thermal resistance, moisture-resistance, durability, and fire-resistance. PIR panels, for example, have excellent fire-resistance properties, making them a popular choice for buildings with specific fire safety requirements.
In addition to the core insulation, the outer layers of the sandwich panels also play a role in enhancing energy efficiency. These layers are typically made of metal, such as steel or aluminum, which provides structural strength and durability. However, the type and thickness of the outer layers can also impact insulation. Thicker outer layers can contribute to a higher thermal mass, allowing the panels to store and release heat more efficiently.
To further maximize energy efficiency, insulating wholesale wall sandwich panels often come with additional features. These may include airtightness, which prevents air leaks and ensures a controlled indoor environment, and sound insulation properties, which reduce exterior noise transmission. Some manufacturers also offer panels with integrated solar panels, allowing for the generation of renewable energy and further reducing electricity consumption.
In conclusion, insulating wholesale wall sandwich panels are designed and manufactured with energy efficiency in mind. Specifications such as the thickness of the insulation core, the type of insulation material, and the characteristics of the outer layers all contribute to reducing heat transfer and improving insulation performance. By incorporating these panels into construction projects, builders can create energy-efficient buildings that not only save on energy costs but also contribute to a more sustainable future.